Richard Stewart Nelson, MD
born October 6, 1923 died February 10, 2008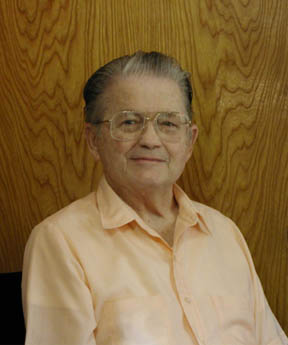 Dick Nelson, 2001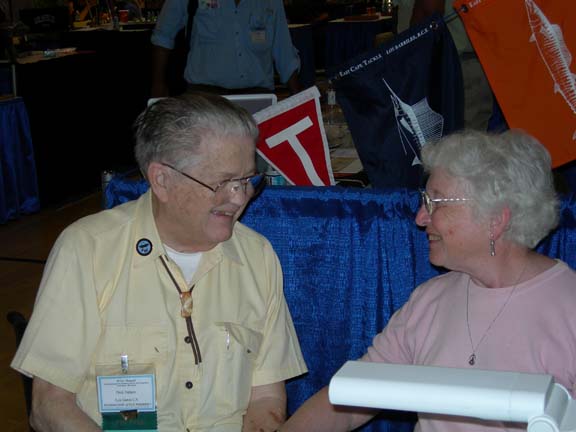 Dick and Lillian Nelson, Fly Fishing National Conclave, August, 2006
My Dad loved fly tying, and even more, he loved teaching fly tying. Mom always said that, of all the hobbies Dad had., she was the hobby that he had the longest (59 years). After that, the next longest hobby that he had was teaching fly tying (35 years). The Dick Nelson Fly Tying Teaching Award is named after him. If you want to do something in honor of Dad, please send a gift to:
The Dick Nelson Fly Tying Teaching Memorial Fund
c/o Judy Snyder
Federation of Fly Fishers
PO Box 1688
Livingston MT 59047
The fund will support national efforts at teaching fly tying.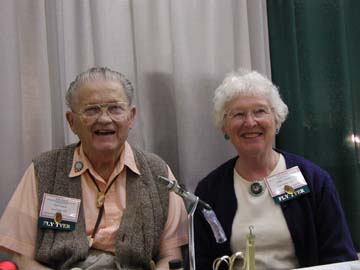 Dick and Lillian, FFF Conclave, 2005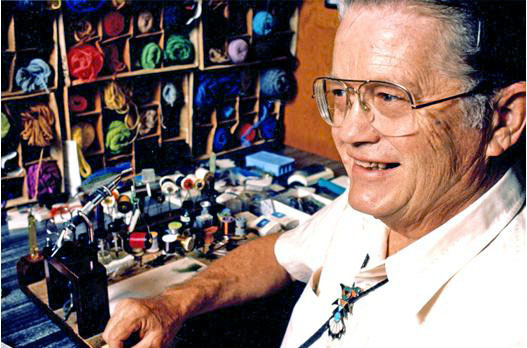 Dick at home, at his tying bench in the kitchen. You can see all of the acylic yarns that he had collected in the background. He was always tickled when he found a new color yarn that would go into a great fly. (Also, he loved bolo ties!)
From sometime around 1995, certainly prior to his first stroke.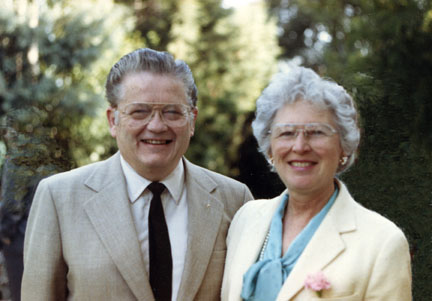 Dick and Lillian about 20 years ago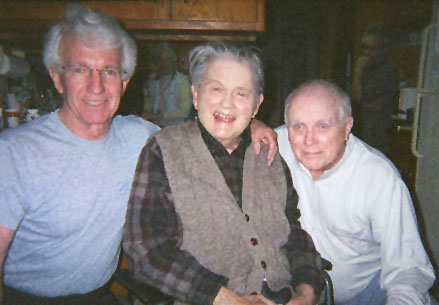 Dad on about April 3, 2007, with his two of his favorite fishing buddies, Bob von Raesfeld, a lawyer in San Jose, and Doug Swisher, the famed fly fishing author. Bob came by and visited with dad almost on a weekly basis for years, supporting him through all his illnesses. Doug was kind enough to fly in from Hamilton, Montana, to be with dad this past March. Dad and Doug cooperated in the invention of the Aztec fly, which was featured in Outdoor Life some years ago.
(The link is to Doug's website; it is funny, since I tried to talk Doug into making a web site years ago, but he said he had no use for one! Times change.)

Biography
by Marty Seldon and Bob von Raesfeld
(Two of his favorite fishing friends)
Edited by David Nelson
Dick Nelson passed away peacefully, on February 10, 2008, at his home in Los Gatos, California, with his family present after a long illness and multiple strokes.
Richard Stewart Nelson was born in 1923 to Adolph Lincoln Nelson and Ada Marie Gruber Nelson in Indianapolis, and grew up in Detroit, Michigan. He was the second of seven children. Dick's fraternal grandparents had immigrated from Sweden and his maternal grandparents from Bavaria. Dick's father was well known in the automotive industry. He developed an aluminum piston with a steel strut known as the "Nelson Piston", and had also invented the "Nelson Gun Control" for World War I aircraft that fired through the propeller.
Dick attended the Jesuit University of Detroit High School and was very active in the Boy Scouts where he achieved the rank of Eagle Scout, as did his brothers. Dick taught ballroom dancing while attending the University of Detroit before joining the Army in 1943. While at St Louis University Medical School, he met his wife-to-be, our good friend, Lillian Marie Killian, who was studying Medical Technology and they tied the knot in St. Louis in 1949. Soon after graduating from Medical School, he was awarded his undergraduate degree from the University of Detroit, the only graduate from the University of Detroit who had received his Doctorate before receiving his Bachelor's Degree. When the Korean War broke out, in 1951 Dick enlisted in the Air Force where he earned the rank of Captain. Dick was discharged in 1954 and the family moved to San Jose, California. He practiced two years with another pediatrician, and in 1956 opened his own medical office in Campbell. In 1957 the family moved to their home in Los Gatos. Dick and Lillian raised five children: Mary Ann, David, John, Mike, and Bill.
Dick began his serious pursuit of fly fishing in 1969 and became a member of Flycasters, Inc. of San Jose, California. He served as the club's President in 1979 and has been its Fly Tying Chairman for over 35 years. He organized and documented the instruction of fly tying to the point where he and son David were major contributors to a new FFF Fly Fishing Instruction Manual. Dick was also past FFF and Northern California Council of the Federation of Fly Fishers (FFF) Board member and a charter member of the Dutch American Fly Tyers Association.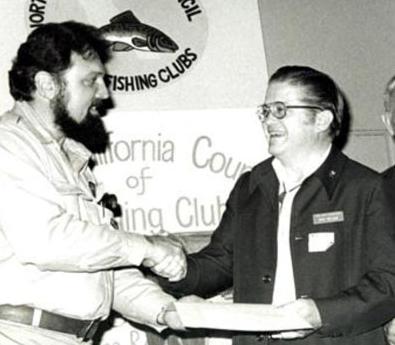 Dick with Andre Puyons, a famous Walnut Creek tier, in 1976 at the Northern California Fly Tying Show.
Dick may have been an officer that year, judging from his nametag.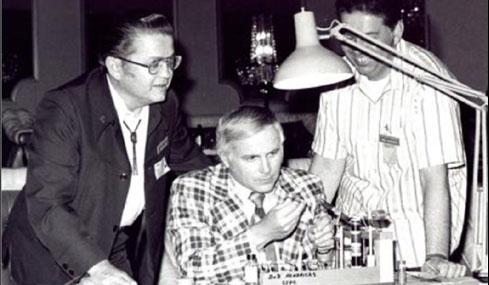 Dick with Doug Swisher, one of his great friends and one of the most famous living fly fishing authors.
1976 Northern California Fly Tying Show.
In 1976, Dick created the Aztec series of acrylic streamer flies and developed a wide range of flies using acrylic knitting yards and other synthetic materials. He was one of the first tyers to use all synthetic materials. Fly fishers have caught trout; smallmouth, large mouth, and striped bass; as well as salmon; steelhead, pike, permit, tarpon, bonefish and dorado on Aztecs and related acrylic flies Dick designed. While he could have patented the Aztec and its progeny, he rather chose to share them with all fly fishers. Dick Nelson retired in December, 1986, after 32 years of pediatric medicine and devoted even more time to his favorite sport. Despite growing notoriety, Dick Nelson remained humble and committed to freely and unselfishly sharing his knowledge, ideas, flies and techniques with anyone interested in the art of fly tying. His many years of continuous service to his club, the Federation and to the sport are unparalleled. His fly tying techniques and seminars have touched tyers everywhere. Dick Nelson tied flies at more than 22 consecutive international FFF Conclaves and at many local and regional events including International Sportsman's Expositions.
Dick Nelson was awarded the most prestigious "Buz" Buszek Memorial Fly Tying Award in 1987 and the FFF Charles E. Brooks Memorial Award in 1997. His flies have been exhibited in the Ontario, Canada, Science Center; the FFF International Fly Fishing-Discovery Center; and in 1989 at a Fly Tyers of California exhibit at California State University.
One of Dick's sons, David Nelson, a San Francisco hand surgeon, was the founder and editor of the first three editions of the FFF book, Patterns of the Masters*. In 1989 Dick and David were the first father and son team to tie at a FFF International Conclave. Dick has been published in Patterns of the Masters , Outdoor Life , American Angler and Fly Tyer , Fly Fisherman , Double Haul and Fly Line. He has written extensive fly tying instruction materials and was working on his first book. Dick demonstrated fly tying at the 1990, 1992 and 1994 Fly Fairs in the Netherlands, at the 1992 Chatsworth Angling Fair in England, and at the 1988 Toronto, Canada, Forum. In 1996 Dick tied in Prague and Cesky Krumlov during the 16th World Fly Fishing Championships in the Czech Republic. He presented fly tying workshops in Canada, England, and the United States and gave many club programs.
In 1997, Doc Nelson suffered his first stroke, followed by an appendectomy which was complicated by a heart attack. Later that year he went back to the hospital for a prostate operation. During that procedure he had a heart attack and later suffered congestive heart failure. They rushed him back to the hospital and were able to bring him around and he again started doing better. In 2000, he underwent bypass surgery. While in the hospital recovering from that surgery, he worked in his mind on perfecting a fly called the "3-P Nymph" that he previously had been working on. The name comes from its three materials: partridge, peacock, and pheasant tail. He was fond of saying that he chose these three materials because some of the most productive flies are tied with these materials.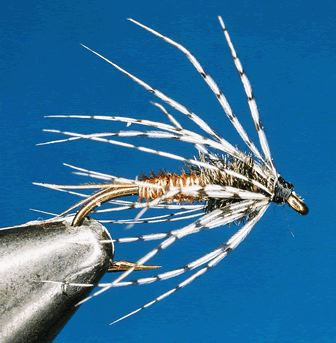 The 3-P Nymph

The stroke left him partially paralyzed and confined to a wheelchair. However, this did not slow down his teaching, but taught his fly tying classes from the rehab facility, one-handed and in a wheelchair. With his faith and the love, care and commitment of his lovely wife Lillian and his family, he accepted his limitations and continued on. Dick began tying with one hand with Lillian being his other. Dick and Lillian teamed up and continued to tie at FFF International Conclaves, resuming the demonstrations he had done since the 1970's.
In 2000, the FFF established The Dick Nelson Fly Tying Teaching Award in recognition of Dick Nelson's lifetime devotion to teaching fly tying and his exceptional talents as a fly tyer and an innovator. In 2003, Dick and Lillian Nelson, as well as his sons David and Bill Nelson, and Flycasters Dorothy Zinky, Jim Cramer, Ken Entin, and I were all at the August 2003 Federation of Fly Fishers International Conclave in Idaho Falls. This was the second year of the Award and we had nominated our good friend Benson Kanemoto. The FFF Awards Brunch was appropriately held on Thursday, August 7th, the 410th anniversary of the birth of Izaak Walton and the award was presented by its spokesman. Dick Nelson and the Nelson family were all tying together at Conclave. Dick's 3-P Nymph (click on the link and enter the name "3P Nymph") was selected at Conclave as a FFF Fly of the Month and published in FFF ClubWire in October, 2006, as further evidence of Dick's fly tying innovations. Dick gave Bob Bates the recipe for the fly and they kept corresponding until Bob's fly got Dick's blessing as perfect.
Dick's health improved and then worsened. He was fine for a while, attending club meetings, continuing to supervise tying classes. Eventually, his eyesight declined and he had another stroke. With sheer will power and a loving, supporting family, he recovered most of his strength and was in the process of creating another innovative fly before he died. In the weeks before his death, he was still teaching fly tying. One student, who could not make the Flycaster's Tying Classes, was being given private lessons by Dick in his home. Two weeks before his death, he was scheduling tying classes. What a man, what a passion for fly tying and for life. Dick Nelson is a profile of courage, service, and commitment to the entire world of fly tying; truly, a fly fishing legend.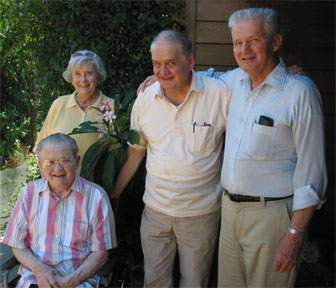 Dad at his 80th birthday with his siblings Mary Lou, Joe, and Ted.


Some of Dick's nephews remember him:

The major impression I have of your Dad was – he was always one of the few adults that really listened to children and teenagers. He would ask me a question or engage me in conversation and the really listen to what I had to say. Being one of 5 and always with a bazillion kids around there were very few adults that had that quality– maybe 1 out of 8. I always felt that I could talk to Uncle Dick and have a real conversation – not just a 'hows school going/what have you been up to' type of thing. As I got older, even though I knew Dick was very conservative politically, he saw past the hair and the attitude and the rock music (or at least acted like he did) and still treated me with respect. Now that I'm 'his age' I know just how hard that is.

I remember him taking us fishing on the ranch and shooting rattlesnakes with a pistol. Several. Catching fish that had likely never seen people. Insisting on vibram soles. Making you shoot your dinner. Those kind of things stick in a city kids mind forever.

Good memories. Thanks Uncle Dick.

- J

im

Nelson March 29, 2007

There is an unremarked-upon spirit of adventurousness in the Nelson family, for which Uncle Dick has been a primary archetype.

(Perhaps it is because few of us have had the patience to plant stakes near immediate relatives, but I have known other families like that, and I never felt we were like them.)

Granddaddy moved from Galesburg, Illinois, to somewhere different, and kept moving till he got to Parkside. (Perhaps because he hadn't been born yet, he reserved the right to disagree with the Galesburg destination?) Grandmommy moved from an Indiana farm. After they had seven kids, they got in their car and drove 500,000 miles. Together.

Dick moved to the Army, St. Louis, then California with Aunt Lillian.

Others followed him. Though not always to California.

Today, we're in Kentucky, California, Michigan, North Carolina, Texas, New York. China...I can't keep up.

When I was thinking about moving to Chicago in 1980, my Dad told me it was good to go somewhere new. "Wouldn't want you to look back 20 years from now and wish you'd tried something you didn't." Like it was no big deal, even though it was to me.

So I went. There weren't any Nelsons in Chicago, but hey. And I always appreciated that my Uncle Dick and Aunt Lillian came back to Detroit with me for my wedding to Lisa.

Keep going, Uncle Dick. I don't want to say goodbye. How about see ya?

Love,
Tom Nelson
Chicago, March 29, 2007

When we were kids Uncle Dick was like the family's Teddy Roosevelt; coming to visit us in Detroit from California with hunting knives, and jerky made from deer or grizzly bears or something, and stories of rattlesnakes, and crazy songs with corresponding dances all the grown ups did, traipsing all around the house. You just wanted to BE him! I really hope the next life is one where that spirit and energy live on, perhaps together with your Mom and Dad and all who have gone to heaven.


- Rich Nelson March 27, 2007

There are so many things that I will remember about Uncle Dick! The Ranch (hunting, fishing, safety, outdoor skills, camp-fire songs, Fourth of July celebrations, clearing poison oak, "ditching" the roads, deer camp, Ol' Timers Day, etc.), bringing into the world and raising five terrific cousins that shaped the lives of each Zweng, stamp collecting, Nelson-Zweng family gatherings (Easter rabbit heads, Dodger Ridge ski weekends, Christmas at Farm Road, etc), his sense of humor, love of life, raconteur abilities, etc.

But one that stands out, perhaps in a more subtle manner, is his passion for deep understanding of any subject that gained his curiosity. Whether fly tying, rifles, reloading, politics—it didn't matter—Uncle Dick held to the pursuit of excellence in mastering a subject. I feel fortunate that I have been exposed to a handful of people that have helped to shape me in this regard (my father, Uncle Ted, Marco Einaudi, and Eric Seedorff). Although I cannot say that I give it my all in every subject, I at least know that there is a higher standard to attain. It is a powerful idea, and one that I hope will increasingly make its way into the main stream of education and thought. Your father was an excellent example of the power of knowledge.

- Paul Zweng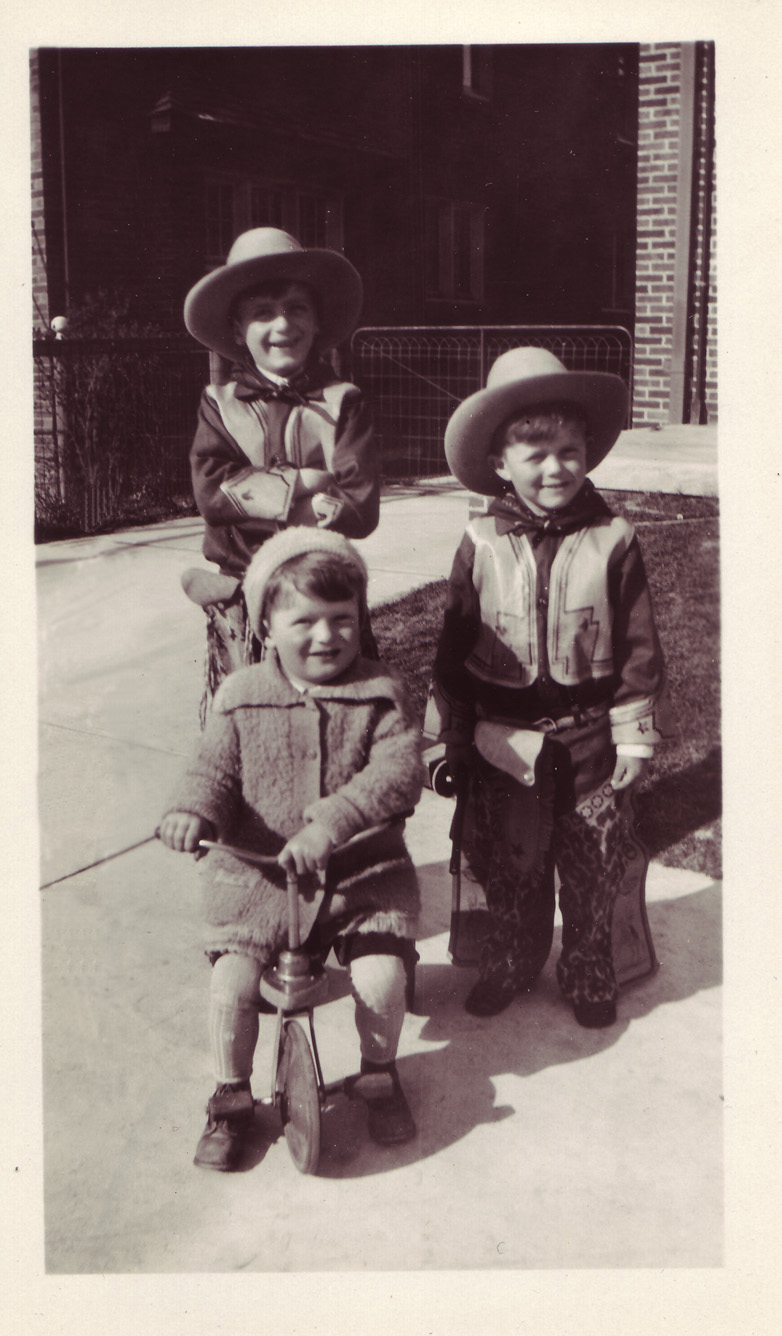 Dick with his brothers Bob (standing, left), Don (on tricycle)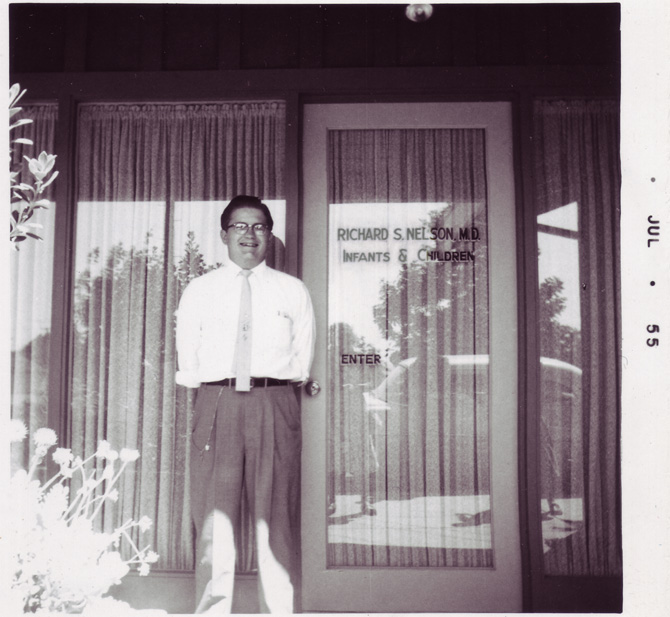 Dick in July of 1955 standing proudly in front of his first private practice office.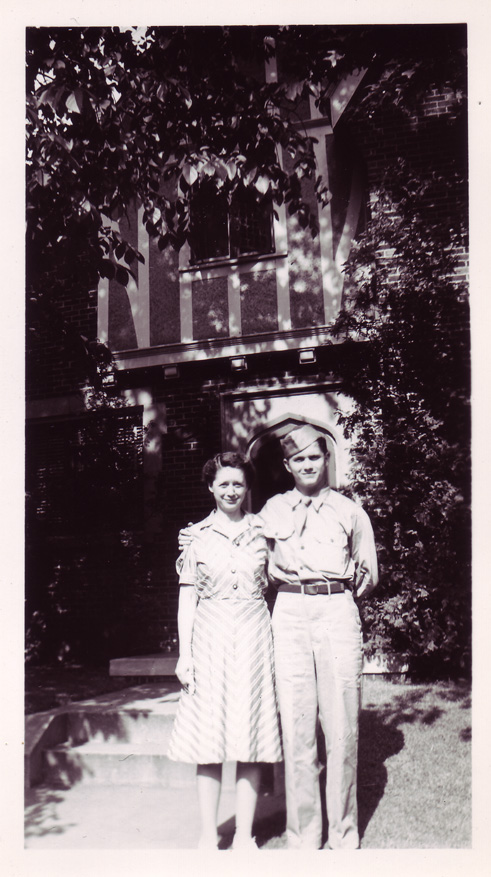 Dick with his mother on his induction into the Air Force, standing in front of the childhood home, on Parkside, in Detroit, Michigan.

This does not have Dick, but it has part of the family, in about 1967.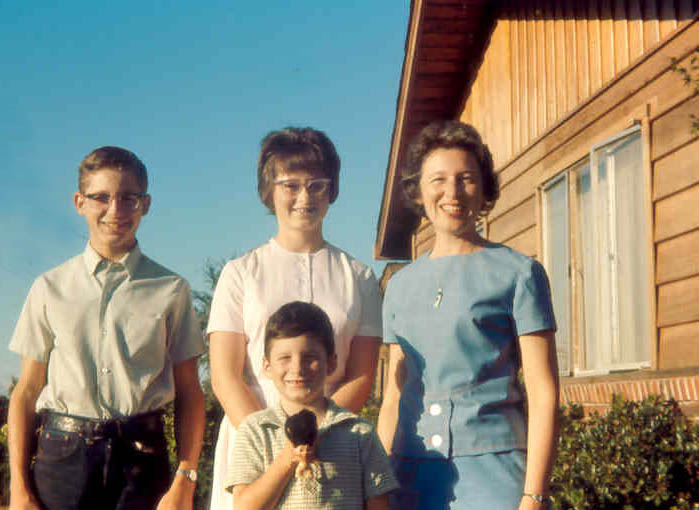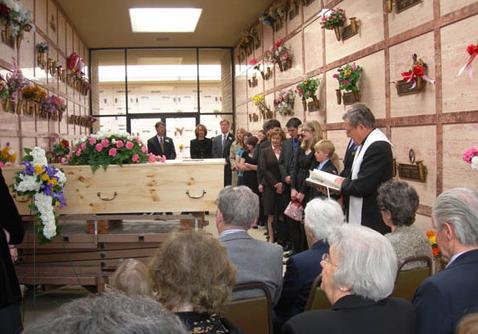 We laid him to rest in Los Gatos, with all the family present. God bless him.

Some stories about Dick
When I was first learning how to drive a 4WD at the Ranch, I was supposed to back up the Blue Jeep.Dad had not been able to make it up, for some reason, and it was just Mom and us kids. The jeep was parked just below the cabin,to the left of the road to the dump. Dad would park the jeep heading at a tree, about a foot away, so that if the brake failed, the jeep would only move a foot and stop, rather than run downhill and away. I was new to the slipping the clutch as you let of the brake routine, and wanted to do a good job. I revved the engine up, to have lots of power, and rapidly slipped off the brake as I let out the clutch. I did a pretty good job, except that I forgot to put it in reverse! I plowed into that oak tree with lots of power and in low low gear! That put a bit of a small hole in the radiator. We managed to fill a bunch of gallon jugs with water and made it home.
This story is about Dad. He was not the least angry, as I remember, that I put a hole in his radiator. He understood that I was new, made a mistake, and learned a lesson. He just accepted it and took it in to get fixed. I have always appreciated how he handled this one. David Nelson 2/9/12
I remember being somewhere off South Flat, down Prune Ridge, in the back seat of the jeep, when your dad was giving Mary Ann an advanced tutorial on stick shifting. He lined up the jeep, head uphill, on a REALLY steep grade. Behind us, the hill fell away to open sky. Next stop, the Arroyo. He parked it, let Mary Ann get in the driver's seat and told her to start it up. As I recall, her first attempt lead to a stall and a fast brake as we started to plunge down the incline. My life flashed before my eyes. There was no way anyone could do this, let alone a beginner driver. Mary Ann seemed as terrified as I was. Panicky tears ensued. Surely, this was some perverse parental torture. But, your dad kept barking at her that she could do it, just pay attention to what he'd already taught her, that this was the same as starting on level ground.
Well, whether she believed that (NOT!!), she did it! We were all euphoric at Mary Ann's triumph, especially your dad. He gave one of his trademark hoot and hollers, was tickled so very pink that she'd accomplished it. That's when he finally admitted how incredibly difficult it was and how proud she should be that she managed to pull it off.
Years later, when stuck at a stop sign on an impossibly steep street in San Francisco with my VERY finicky stick shift car, which stalled even on the straight and level, I remembered that episode and gathered the courage to execute the Mary Ann Maneuver. Just knew as Uncle Dick's niece, I could do no less. (However, I emphatically deny any panicky tears; and, since there were no other witnesses...)
Nancy Zweng, 2/9/12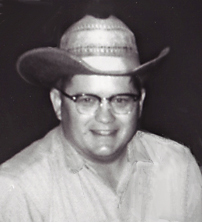 At the Ranch, 1965
On the occasion of John getting his first deer

Dad would have been about 43

He sure did give us treasured memories, as well as an appreciation for the outdoors, a set of skills for independence (even if he wasn't always thrilled with where that led us!), and life lessons on the importance of preparation and of anticipating consequences. He still lives large in our lives.

Xo, Nancy

Zweng 2/9/15

On Tuesday I was at Waikāne on a volunteer day. We were weeding Clidemia and other alien shrubs (we do a lot of weeding!). When we cut down these shrubs, I instruct the volunteers to break down/cut the shrub into "sticks" and then lay them down on the ground parallel to the contour. That's what we used to do at the Ranch—lay down the branches on the contour to mitigate erosion. It's where I learned it. And after hearing your dad call it out many times, I never forgot it. Each day we do this I think of him.

I was always glad when the work sessions ended so that we could go to Grasshopper Flat and shoot the 22's!

Paul Zweng 2/10/15

Seems like yesterday!

Your dad was a wonderful man, full of energy and enthusiasm that was contagious. His thirst for knowledge and understanding of His hobbies and pursuits has certainly been passed on to many of us. And of course, none of it would have been possible if not for a loving and supportive spouse - your mom!!

Tom Zweng, MD 2/12/15

Discussing this election with Dad would be great. He was such an interesting, well meaning character that never let a teachable moment slip past him. For that I am grateful.


Remembering is important. Live on Dad!

Mary Ann Nelson 2/10/16

And could he dance! It was great fun. He also had a tender heart.

Lillian 2/10/16

Dick's enthusiasm and knowledge added sparkle and growth to all out lives.

Such fun to be around him. Sitting mentally at the breakfast table with him today.

Thank you God, for him!

Mary Lou 2/10/16

Yesterday a new volunteer came out to Waik?ne. She asked me how was it that I gained an interest in conservation. I told her part of the answer related to my experiences at the Ranch and the lessons taught by Uncle Dick. We probably all remember him pointing to a long stretch of barbed wire fence separating Nelson land from Mr. Bellino's (spelling?) where one could see lush grass on the Nelson side and bare dirt plus scattered patches of tar week on the other side. The stark contrast between the two sides—one well managed/the other not—has stuck in my mind all these yrs. The we were fortunate to have had him in our lives.

Paul Zweng
Kailua, Hawaii
2/11/17

We still miss him and I guess we always will. He was a good and faithful husband and father. His daughter and sons have followed his example and he was proud of all of you as am I. I remember that those were some of his last words to you. He was proud of all of his children. I still pray for the repose of his soul as I hope you do, too.

Love to all, Mother
February 10, 2017