Patient Statement
Distal Radius Fracture Surgery

---
83 Year Old is Back to Tennis at Five Months
I fell on the Tennis Ct. on June 25, 2015 and broke my right wrist.
I had surgery from Dr. Nelson. He put in a titanium plate and a few screws on 7/7 2015. It feels great. I have not had any pain what so ever.
I had a check up with Dr. Nelson October 5th - everything is going well and I can start playing Tennis in November 2015
I am very happy with my surgery. - NO PAIN EVER. Thank you.
---
23 Year Old is Back to Activities at Three Months
While I was initially skeptical of surgery, I am now beholden. Increased functionality was immediately noticable, and strength followed not long after. The two days following surgery were not my best days and I do have a noticeable scar on my arm - these are the two drawbacks. However, they do not begin to stack up against all the positives. 3 months removed from surgery I have 100 percent functionality and feel comfortable with almost any activity.
---
18 Month Followup in 77 Year Old with Broken Radius and Ulna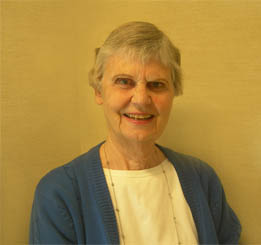 Smiling after 18 months: full use of hand,
even after two plates.
Eighteen months ago (December of 2010), I suffered what I thought was a devasting injury. I managed to fall and break my right arm/wrist. (...and yes, I am right-handed -- very much so!!) My injury is referred to as a Distal Radius Fracture. Both bones in my right arm were broken up close to my wrist, and they were so badly shattered that plates had to be put in to repair the damage. (She required a plate on both the radius and the ulna. - Dr. Nelson)
I thought my life with two functioning arms was changed forever.
Boy, was I wrong! Fast-forward these past 18 months and I have regained the use of my right arm. I had to convince myself to look on the bright side and to know that I would be able to do for myself all of those things that I had taken for granted before breaking my arm. Little everyday tasks -- brushing teeth, washing and combing hair, getting dressed (and many more) -- were not easy, but one learns very quickly new ways to do things when faced with adversity.
Today, I am pleased with my how my arm works. My arm performs whatever the task I want it to do. Eighteen months ago, I thought my hand-writing would never be the same. I've been told, however, that it's back to the old pre-break standard. That was certainly nice to hear.
65 Year Old Musician breaks both wrists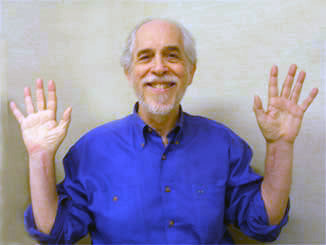 Len at three weeks. Note the incisions on both wrists.
I am 65 years old, retired as an attorney, and leading a very active life. Last month I took a spill while exercising and fractured both wrists breaking the fall. I was referred to Dr. Nelson for his expertise in hand surgery. I went along with Dr. Nelson's recommendation to insert titanium internal fixation plates. The operation at Marin General went "super," in his words. I couldn't have been more pleased with the level of care by Dr. Nelson, and all the other medical personnel.
I went home the same day as the surgery three weeks ago. I took Dr. Nelson's prescribed combination of Cerebrex and Tylenol for a few days, and had no need to take anything stronger for pain, such as Vicodin. I wore splints before surgery, but after surgery I only needed to wear surgical dressing for eight days. It was a pleasure to be able to remove that dressing so soon after surgery, and to take a shower without any need to secure plastic bags over the dressing or splints to keep them dry. Following surgery, I was able to handle all my personal hygienic care by myself, and just needed help from my wife for a few days with some difficulties in getting dressed -- tying shoelaces, and some buttoning of clothes.
Progress in regaining the use of both hands has been very steady, with noticeable gains every day. Physical therapists' advice for hand exercises at home have helped significantly. Ten days after the surgery I was able to type on a computer keyboard, using all fingers, with no impairment or pain. Three days later, I tried driving an automobile locally, and there were no problems. One of my biggest concerns was how soon I would be able to resume playing guitar. My right hand, which does the picking and strumming, is about as good as before the accident. The fingers in my left hand are about as agile as before, and I have regained the strength to press the strings against the neck to play most chords. The way things are progressing, I anticipate that I'll be rejoining band rehearsals in just a matter of weeks.
~ Len
---
Horsewoman Breaks Both Wrists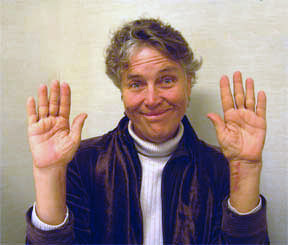 Anne six weeks after having BOTH wrists fixed
I was riding a large draft horse at a fast trot when he suddenly decided to go under an obstacle that was just high enough for him to pass under but hit me at waist level and knocked me off. In falling I broke both wrists and a leg.

When I was told about the surgery for both wrists and one carpal tunnel I was nervous, especially anticipating the pain afterwards.

Preparing for the surgery itself was simple enough, it was mostly just a matter of remembering a few simple instructions and showing up in the morning at the hospital. I remember being wheeled into the operating room and Dr Nelson checking in with me and then with all the staff in the operating room... and that was the last thing I remember. When I woke up the nurse was there and was very comforting. Dr Nelson came by and talked to me. My perception of time that morning is distorted, because it felt like my time at the hospital was only about twenty minutes or so, when of course it was a lot longer.
I am happy to report that although there was some pain, it wasn't anywhere near as bad as I had anticipated. I had a prescription for Vicodin and had the pills on hand should I need them, but the pain never got severe enough that I took any. Instead I used only the Tylenol Arthritis and Aleve that Dr Nelson had recommended. That was all that I needed.
At this point (two months post surgery) I am well on my way to being back to normal. Physical therapy was most helpful. They have shown me how to get my hands back to working again through exercise, stretches, and manipulation.

Best of all, I am happy to be getting back in the saddle again!
~ Anne
---
77 Year Old Professional Artist Fell
Renee 10 days after surgery.
I am a professional painter and sumi brush calligrapher, and I fractured my right wrist.  Dr. Nelson advised me that since I need total use of my right hand, an operation with a titanium insert would be best.  Operations have fortunately not been a big part of my life and I was anxious about moving in that direction. I was especially anxious about the pain after surgery. His detailed description of what would happen after I entered the hospital was calming and useful so I knew what to expect. The day's events were just as he told me they would be.
The operation was at 7:30 in the morning. I came home shortly after noon. He was right about the post-operative pain. He gave me a numbing shot before the end of the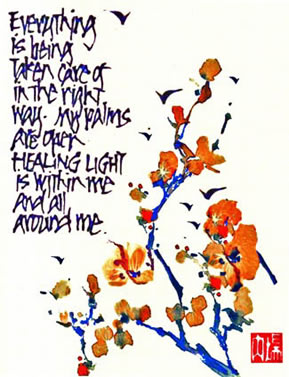 Renee's positive attitude is reflected in this delightful
calligraphy and sumi artwork. Thanks, Renee!
surgery, so my hand was numb for a day and a half: No pain!  I took only 1/2 of a Vicodin in the entire 10 days after surgery. 24 hours after surgery my young grandchildren came to see me and I felt good enough to do jigsaw puzzles with them - left handed. When feeling returned to my hand it felt icy cold.  That is one thing I was not told.  To warm it I used a gardening glove that was large enough to cover the bandages and kept it under the covers for as long as it was cold.

Today, one month after the fall, I am typing on my computer to tell you my story.  Some movements are still limited and I look forward to continued healing comfortably. 

~ Renee
---
Today, I weeded my garden, painted in my studio, used clippers and  picked flowers, played the piano...  I'm a Chiropractor, and am  planning to go back to work in two more weeks. Two months ago I had two broken, nonfunctional, painful wrists after a nasty fall.  (bilateral distal radius fxs). I couldn't do anything for myself.  I decided that if I wanted my life back I had to have surgery.  It was  a very good decision.

I did everything pre and post surgery that I was told to do.  Celebrex and Tylenol controlled the pain.  I never needed anything stronger.  
Three days after surgery, my splints came off and I really was able to start using my hands. I was amazed.  What a freedom  it was to dress myself !!

Now I think it's a no brainer, if you have one or two fractured wrists, and are lucky to know Dr. Nelson, let him fix them !!!
---
87 Year Old Fell While Enjoying a SF Art Gallery
Three weeks ago, on March 6, 2009, I slipped on a shiny hardwood floor in a gallery in San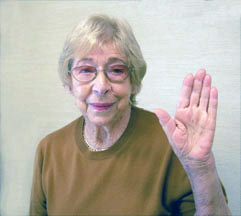 Marjorie 10 days after surgery. She had
a particularly bad fracture and is one of only
four patients who have required a plate both
on the palm side and on the back side of the wrist.
Marjorie is a great sport and has done well.
- Dr. Nelson
Francisco, put my left hand out for protection and ended up with a very painful wrist. My husband drove me to the Emergency Room at Marin General Hospital where my hand was xrayed.  After discovering that my wrist was broken, it was splinted and an appointment was made for me with Dr. David Nelson. I saw Dr. Nelson the following Monday and he  recommended surgery for Friday of that week. He reassured me things would probably work out well. I was not too concerned because I had had two successful surgeries.

I arrived at Marin General Hospital at 6am on March 13 and was escorted to the preop room for outpatient surgery patients. The personnel were extremely considerate and kind and I was made to feel very comfortable. Since I was to have a general anesthetic the anesthesiologist visited me and was very reassuring. Doctor Nelson also visited me. I received an IV and then was wheeled to the operating room. The next thing I remember was my husband and daughter standing by my bed. I had no pain, had a gauze bandage on my wrist and went home after about an hour.  I took  Celebrex (had taken one tablet before surgery) and Tylenol for the next ten days, I did not need any narcotics. Pain has been minimal. There are two metal plates in my hand and I am recovering well.
~ Marjorie Block
---
Broke Other Arm 6 Months Ago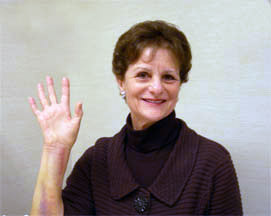 Diane 10 days after surgery.
I broke my left wrist, which was treated with a cast. Six months later, I sustained a second wrist fracture, on my right. This time, I was referred to Dr. David L. Nelson. We decided on surgery for this fracture.
Surgery on the right wrist fracture resulted in a much faster and easier recovery, starting physical therapy within days of the surgery, as well as less discomfort and inconvenience. It is now two months since the surgery and the wrist already looks closer to it's natural state than the left wrist that was cast eight months ago. (minor editing for clarity).
~ Dianne 1/26/09
---
Flew to London a Week After Surgery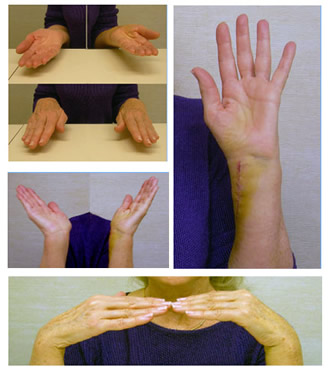 This is her range of motion one week after surgery.
I am a 67 year old woman, retired but very active.
On January 11, 2008, Dr. Nelson operated on my broken left wrist, installing a plate and screws. I was very diligent in following his instructions for pain management before and after surgery and experienced very little discomfort. I did not take any Vicodin, only Celebrex and Tylenol.
I flew to London a week after my surgery by which time I was completely off medication (Celebrex and Tylenol) and suffered no ill effects from pain or swelling during the flight. My experience after the surgery was very positive, mostly pain free and I was able to use the computer and do other normal activities.
Now six weeks after surgery I am working on improving my range of motion which almost matches that of my right hand. Dealing with the scar which is faint but quite sore is giving me more trouble than I expected. I am using Arnicare cream, massaging it, and occasionally icing, is helping a good deal. I am very pleased with the results of this surgery.

- L.L.
---
54 Year Old Male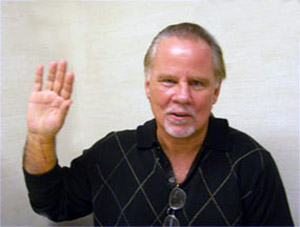 Rob 10 days after surgery.
This patient needed an osteotomy (cut the bone) after a distal radius malunion (radius did not heal right)
Well, I'll be gall darn, what you told me was true!

I have to admit was skeptical when you told me I could return to work on Monday after the Friday operation, that it would be possible to not use narcotics to alleviate the pain and in the recovery room I would wake up fairly clear headed (well, as clear as my head ever gets). That I had spoken with other surgeons before the operation and they had told me not to get my hopes up, did not help with my level of anxiety of having to lay around for a week taking pain medications. The facts are:
(1) I woke up in recovery and was joking with you and the nurses plus went home to a productive evening entertaining friends.
(2) I never had to touch a narcotic drug. The Celebrex and Tylenol combo worked fantastically!
(3) I was back to work on Monday morning using the hand/wrist with only fractional discomfort (no pun intended). 
Amazing!
The other surgeons were mistaken. Not only did I not lay around, I got a second job. Thank you and your associates for a job well done

Sincerely,
Rob Buckley
---
Complex Case Requiring both a Volar Plate and an External Fixator
 I am a sixty-something woman who fractured my left wrist (distal radius fracture) on June 28,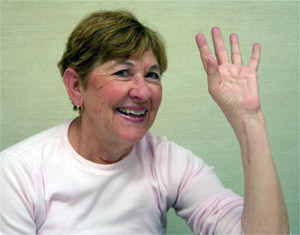 2007.  Dr. Nelson performed a five-hour surgery on July 6, 2007, putting a plate in my wrist and an external fixator on my arm (as an out-patient - Dr Nelson).  Three days later I was in physical therapy. 
During my recovery, I took 3 and 1/2 Vicodin, and a few Tylenol.  I had several nights of interrupted sleep, other than that, I had no real pain. 
On July 29, 2007, I was driving my car and I went back to my exercise class.  During the summer, with the external fixator still on, I did some hiking in Tahoe and entertained my granddaughter on an eleven-day camping trip to Yellowstone Park.
I am on my last week of physical therapy.  Other than some stiffness in my fingers, I am using my hand and wrist without any discomfort and I am pretty mobile.
Dr Nelson and his staff, Marin General Hospital, and the hand and wrist therapist have been wonderful. I would like to thank all of you for making this ordeal as comfortable as it could be.
~ JQ 12/11/07
---
Volar Fixed-Angle Plate (a type of internal fixation)
It has now been 5 months since I have had my broken arm repaired. I will say at this time that I can do everything I have ever done with my hands.That includes teaching weight training, gardening, cooking , sewing, and I am about to lay some stone and tile on my hearth. I am a very "hands on" kind of woman so to speak. I was very ambivalent after surgery. I did not know how much to expect from the repair. Dr.Nelson tells me that I am the first person to have the new volar plate. I was out of the splint, no cast, only 5 days after surgery. I followed his medication regimen and had minimal pain post-op. I began physical therapy about one week after surgery.
The original general orthopedic surgeon was going to do a bone graft from my Humerus, put on a cast and external fixator. He told me to expect about 50% of my strength and flexion and that my hand would never be the same. I decided to get another opinion and Dr. Nelson told me 90 percent of function with no cast or bone graft. I decided the choice was clear, a hand surgeon, specifically Dr. Nelson gave me much better odds. I am very pleased with the outcome and recommend that you follow the "doc's" regimen for optimal outcome. If you would like to ask questions, just e-mail me at andersonc@usfca.edu.
Christin Anderson MS
University of San Francisco
Wellness/Fitness
415-422-2442
---
Percutaneous Pins
In late October 2001, I fractured my left wrist, and surgery was required. Dr. Nelson inserted three percutaneous (a new term to me!) pins in the wrist to hold the bones in place. Like any other human, I found this extremely unpleasant, uncortable, unattractive and generally unwelcome. During a subsequent check-up office visits, it was determined that the bones were healing faster than anticipated so the pins could come out sooner than planned. Gloomily, I evnsisiond another surgery which would obviously be required for this complex procedure. Dr. Nelson said he could tak th pins out then and there, in the office, with no anesthisia, no operating room, no IV, no drugs. He promised no pain. I didn't beliee him until I read another letter just like this one and decided to go ahead.
There was no pain, no blood, no mess, no fuss. The slight twinge was nothing more than that: an odd twinge which was somehow not unpleaant. It was well worth it to be rid of the pins.
If you are considering letting him take the pins out and he promises no pain, take my advice: go for it! It's not painful and your're free of the Dracula look. Good luck, and, as they say, "just do it!"
Claire McAuliffe
December, 2001
---
Volar Plate
I am a 62 year old woman, not very athletic, and I took a very bad fall from my bike. In addition to being bruised, with a sore foot, I also had a broken wrist. Dr. Nelson recommended surgery and I immediately agreed to it because I wanted the best possible outcome in the long run. My surgery was June 9, 2006, and I followed Dr. Nelson's protocol for pain management. I also took additional pain pills during the first week. I don't know if they were really necessary but I felt they took the "edge off ", reduced my anxiety and let me sleep. In addition to the surgery, I was quite badly shaken from the fall and that lasted for quite awhile. I started Hand Therapy 4 days after surgery and found that process to be very soothing and I feel it helped a great deal with my recovery. I also found the hot and cold baths recommended by the hand therapist to be the best method of healing during the first couple of weeks. The surgery has been very successful and after a month of "taking it easy" I was ready to re-enter the social and business world. Taking this much time off is probably a luxury, but I felt much better with no pressure on me. Understanding the process of healing after the surgery is important in setting your expectations and plans. My experience was that although the surgery seemed very straightforward and competent, it still takes a few days to recover from. It took me another couple of weeks to get my confidence back and feel close to normal. After a month, I was really feeling okay but it was almost 6 weeks before I felt back to normal. Some of the trauma was a result of the fall, the bruises....not just the broken wrist. It was also relevant that I am left handed and broke my right wrist...so I wasn't really prevented from doing much. If I had broken my left wrist, I think it would have been much more traumatic. I am very glad that I had the surgery and feel that I have achieved excellent results. I plan to do hand therapy for a few more weeks as it makes me aware of the progress I'm making and pushes me to do exercises. I feel I had an excellent experience given the circumstances of my fall. It's all just a little harder to recover than it would have been at 30!
PG
August 7, 2006
---
Volar Plate
Hi Dr. Nelson:
I returned to my home in La Canada, California, on 4-26-07 just 6 days after my surgery for a surgical fixation of a broken wrist, the result of a fall on Saturday 4-14-07. I was seen in the emergency room of MGH where my arm was x-rayed and I was informed by the doctor that I had a fracture of my radius. I was advised to see an orthopedic doctor, and you were highly recommended by the E.R. staff. Early Monday morning I appeared at your office with my x-rays and without an appointment you took me right in and explained the condition of my fracture and my options. You told me my options included (1) wearing a cast for several weeks or (2) surgery with no cast and I would have limited use of my hand. Since my husband and I had a business trip on 5-3-07 I had to carefully exam my options...5-6 weeks in a cast with the helplessness and inconvenience or surgery? I chose the surgery to be able to resume my scheduled events.
After the surgery I went back to my hotel. I went to bed and slept most of the day with no pain, so I forgot to take the Tylenol. 10 P.M. my arm was painful. I took a Vicodin and went back to sleep, experiencing some pain the rest of the night. At 10 A.M I took another Vicodin (my second) then started the Celebrex 400mg. daily with Tylenol 650 mg every 6 hours. I was able to shower the first day with a plastic bag held with rubber bands to keep my dressing dry. I did the shower by myself as I don't ask for help unless I just can't do the job. On the second post op day I was up and around packing what I could with one hand. The pain was tolerable but once in awhile I would get a jolt. I continued the Celebrex with Tylenol for 5 days. Having had the surgery, today 4-28-07 I washed my own hair and luckily my daughter came by and dried it for me. I'm swollen and aching and continue to use the hand gently with some caution, trying to open jars or cans, medicine bottles etc. is impossible at this point. I found that wearing loose fitting knits is best to make it easier to dress for a few days after surgery. In five days, we will be off to the airport for that business trip.
Thank you Dr. Nelson for your thorough explanation of my options which was very helpful.
Mary Wollam (edited for clarity)
---
Volar Plate
I broke my wrist (edit: distal radius fracture - Dr. Nelson) in a skating accident and shortly thereafter, had surgery to place an internal fixator (edit: volar plate - Dr. Nelson). Within 24 hours of the surgery, I was able to carefully use my hand, my arm, and my fingers. Later that week, I traveled to NYC and did not experience any problems at all. There was no pain since I adhered to your protocol, and no restrictions. I really appreciated the value of the procedure because 3 years earlier, I broke my other wrist and was in the traditional cast for weeks and weeks. When the cast came off, it took a long time to get my strength back in the hand and arm, to say nothing of the discomfort, inconvenience and total disruption of my law practice.
I'll take the surgery any day!!!
Jeannette B.