Patient Statements
Ganglions and Other Cysts
Tendon Cyst

On Friday, March 21, 2008, I had an early morning surgery to remove a cyst at the base of my pointer finger on the top side of my hand (approximately where the wrist starts to bend, see photo below). My surgery was a little unusual in that the cyst turned out to be inside the tendon, as opposed to being on the outside, which necessitated taking out a piece of the tendon. This was a more aggressive approach than was anticipated prior to the surgery.

In spite of this, having followed the prescribed Celebrex and Tylenol (acetominophen) regimen described by Dr. Nelson, I can honestly say I didn't feel a stitch of pain (no pun intended?!). That made me extremely happy because I was worried how I would get along during my recovery when I was home alone for the most part. I think the other thing that kept me pain free was that I religiously elevated the area by using a pillow the whole of the first day of the surgery and part of the second. Dr. Nelson told me that the elevation was to reduce any throbbing in the area and I experienced none of that at all. I also slept A Lot! On the Monday after the surgery I was able to be off all medication. The last thing I took was Celebrex on Sunday morning and only to ward off any possible discomfort, not because I was in any.

I am now 12 days out from surgery. My hand is very good at telling me it's limits so that is the other management technique I am using. After the procedure, the most discomfort I ever felt was just a dull ache which was not bad at all. The only problem I had occurred on the first day after the surgery. I have some medications I take every morning and they were in childproof caps. Since the surgery was on my dominant hand, that was a problem until I discovered I could take some rubberized shelf lining and push the bottle down on it while twisting with my non dominant hand to open them. Aside from that, if I needed any bottles or cans opened, I had my boyfriend do that so I could leave the lids loosely on where I did not have to worry.
Thanks Doctor Nelson! I appreciated the information on the web site and I had fun in your "Just for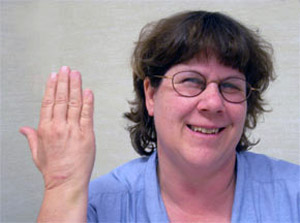 Fun" section as well. I feel very fortunate that my primary physician sent me to you and I would recommend you to anyone who needed the benefit of your specialty. I had anticipated more discomfort and a longer recovery time and I am extremely happy that all that was minimal. I am adding more activity to my list of "can do" daily and because of the wonderful stitching skills of yours, I doubt I will be able to tell where the incision was within a week. I also found the surgery pictures that you gave me on my follow up visit (see above) to be very interesting. My cyst looks like a little piece of shriveled garlic bulb, which is weird! Like most people, I had no idea what the insides of my hand looked like until something went wrong! Thanks again.
Sincerely yours,
Virginia Beauchamp

---
Dear Prospective Patient:
Hello. As a recently recovered patient of Dr. Nelson's, he asked that I share my surgery experience with you. It's my hope that not only will my positive experience provide you comfort and reassurance during your surgical procedure, but that you, too will have a similarly 'routine' and trouble-free surgery leading to a complete and rapid recovery.
Dr. Nelson confirmed my suspicion that I had a cyst at the base of my third finger of my dominant hand that was bothersome during rock climbing and other activities that placed that area of my hand in compression. I accepted his recommendation for surgical excision and a date was scheduled at Marin General Hospital. The morning of the procedure I had a private room and was well tended to by the hospital staff. Before surgery, I spoke with both Dr. Nelson and the anesthesiologist. For my procedure, the anesthesiologist used a monitored anesthesia and I remained alert during the entire time. In fact, Dr. Nelson, the anesthesiologist and I talked about rock climbing. We were so busy talking that I didn't have the chance to see the incision or the ganglion cyst. If you are so inclined and have the interest, Dr. Nelson might be able to accommodate you if you ask. After the surgery, I spent approximately 30 minutes in the recover room before being returned to my room. Another 30 minutes or so more and I was discharged. I spend most of the remaining morning and afternoon at home resting.
Dr. Nelson has a good regimen for pain management and he'll discuss this thoroughly with you. I continued to feel the effects of the local anesthesia that Dr. Nelson administered – numb, dislocated, dull sensation across my arm – for the afternoon and into the evening on the tips of my fingers. I felt very little physical pain or discomfort because of this. Some soreness, maybe a bit of an ache, even, at the base of my hand, but I was never uncomfortable at any time following the procedure. And, actually, I took neither the Vioxx nor the Vicodin Dr. Nelson prescribed for pain management. I didn't need them.
In the week leading up to my follow-up appointment, I kept the bandaged area clean, dry, and well dressed. The incision was well closed and healing when I returned for follow-up. During that week, I lightly exercised and continued recreational cycling. I waited two to three weeks before returning to climbing to allow my hand the time to heal. Today is exactly eight weeks after my procedure and there is minimal evidence of any scarring from the incision. My skin has the same resiliency as before when I fan my fingers to spread them apart. The tendon at the base of my finger feels completely normal and I have full, unencumbered use of my hand. You should know, though, that I did experience some sensitivity along the tendon when pressured was applied, but that is expected from the tendon sheath cyst excision and was really only noticeable when rock climbing. Although, it might have been those really small holds I was climbing, too.
You're in good hands with Dr. Nelson. Here's to a rapid recovery, and best of luck.
Regards,
David Kopp