Patient Statements
Carpal Tunnel Surgery
One at a Time for Me
When bilateral carpal tunnel surgery was recommended, I went through the list of things I do every day which is not too involved since I am 82, retired and live alone. I had thought originally to do the bilateral surgery but changed my mind. I was particularly concerned about caring for my dog, driving, dressing and especially personal hygiene.

After discussing my thoughts with my daughter, I opted for the "one at a time" solution. Though I had no difficulty with either surgery, I am glad I had only one hand done at a time. There was certainly a lot less grumping about not being able to hang on to things, button my blouses, etc. For those who are working outside the home, the bilateral option would no doubt be worth the effort.
The most important piece of advice to pass along at pre and post surgery is FOLLOW INSTRUCTIONS. My surgery was virtually pain free with the Tylenol Arthriitis and Aleve and NO Vicodin, with its attendant weird dreams.
Thank you Dr. Nelson for all your thorough explanations and excellent care.
---
It might be a common place to say "if I had known how the surgery would be, I'd have had it done earlier", but it is true in my case.
I had been suffering numbness (and that feeling that is in between numbness and pain) for over a year. It would wake me up in the middle of the night, I had to read with the book on a table because I could not hold it in my hands, and it would hurt after about two minutes, …
When I woke up from the anesthesia I immediately felt the "release", that sensation that I was almost used to was gone. During the first day I waited for the anesthesia to wear off and for the pain to come… nothing. At some point I had to move my fingers to feel "something", to reassure me that the surgery has been done. I kept waiting for the pain, the second, the third day… nothing.
I did not use a single pain killer and started using my hand for small tasks in about 2 days.
A month after the surgery I use my hand normally and I am very happy with the way my hand feels and looks.
~ Mara Gil
---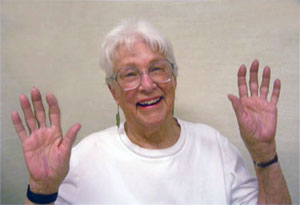 Eileen smiling at 5 weeks after surgery
Two at Once was Right for Me

I am 86 years old. Three fingers on each hand tingled all the time. Dr. Nelson suggested operating on both hands at the same time and I agreed. It was hard to do much immediately after the surgery, although I could manage. It definitely improved after I could get my hands wet and shower without wearing plastic bags on my hands, five days later. Both my hands healed quickly and are greatly improved. Having both hands operated on at the same time was definitely the right decision for me. Not having to return for additional surgery made everything easier.
~ Eileen McBride
---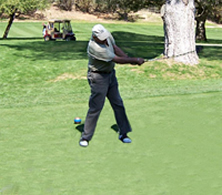 Mike on the links
Carpal Tunnel Release in a Golfer
I had hand surgery at Marin General Hospital on 2/20/09 and everything went well.
More importantly, after a virtually pain-free recovery, I actually played 9 holes of golf one week later on 2/27, and on Friday 3/6, I played a full 18 holes virtually pain-free, with only some minor discomfort on a few hard impact shots when I was in sand traps & rough.
~ Mike Burbank
Golfers are a unique group! They even play in the rain, so some golfers are rather tough. I am sure not all will be able to return to the links so soon, but I thought Mike's devotion to the game deserved a mention on this site. In addition, if you are a golf addict, this story may help you make your decision regarding timing of your carpal tunnel surgery. - Dr. Nelson
---
Simultaneous Bilateral Carpal Tunnel Release in an 87 Year Old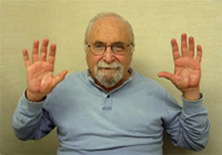 Charles doing well at 10 days
I had been having increasing problems with my hands for 4 or 5 months: numbness in the thumbs and first two fingers of each hand, with some cramping if a hand was in a position too long (like holding a glass). I've had some cervical problems and wanted to rule that out, so I had some tests which clearly showed advanced carpal tunnel syndrome in both hands, worse in the right, my dominant hand. I saw Dr. Nelson. He checked my symptoms and test results and recommended a bilateral CTS operation. I agreed.
~ Charles
---
Simultaneous Bilateral Carpal Tunnel Release in an 86 Year Old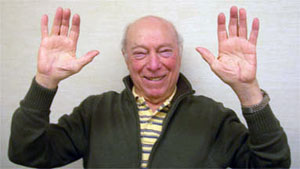 10 days after surgery
I had a carpel tunnel release done on both hands at the same time10 days ago. The surgery went well. The doctors and nurses were wonderful.
The first two days were hard, but I managed. I wore Sports pants (sweat pants) with an elastic waistband that I could manage with my thumbs. Eating the first and second days was a challenge.
I just took the medication, Celebrex and Tylenol, that Dr. Nelson recommended--no pain pills. I did fine. After the fourth day, I was able to drive. Having both wrists done at the same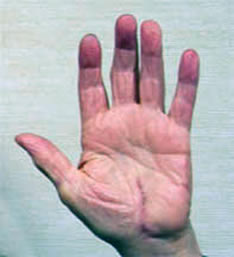 Closeup of the incision at 10 days: all the
sutures are inside, under the skin, and do not
have to be removed.
time worked for me.

Thank you, Dr. Nelson.
~ Fred Goodstein
---
On December 7th, 2007, I had a bilateral (both hands) carpal tunnel operation at Marin General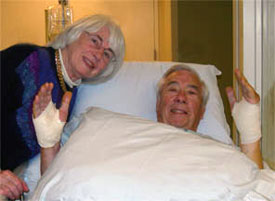 Closeup of the incision at 10 days: all the sutures are
inside, under the skin, and do not have to be removed.
Hospital. I am 78 years of age. During the past 3 or 4 years, I had progressively lost the feeling in my fingers. I had been very frustrated when trying to type on my computer, button my shirt, pick up small items like pills, etc.

I researched carpal tunnel syndrome online and discussed the problem with numerous friends (mostly professional musicians) that have had carpal tunnel surgery. I saw Dr. Nelson and scheduled a date for surgery on both hands. All of the pre-operation preparation and post operation suggestions for the patient were carefully and clearly given to me in an easy to read format by Dr Nelson.

On the day of surgery, the pre-op procedures were carefully and professional done by hospital staff and I was moved into the operation room. Dr. Nelson was available to answer questions with a very positive demeanor. I received local anesthesia in both hands and a light sedative. I was awake during surgery and felt absolutely no pain. At the end of the procedure Dr. Nelson gave me a long acting pain medication (12 to 14 hours locally). In the recover room, I was given careful addition information regarding pain care. I have followed these instructions carefully which resulted in a pain free recovery experience.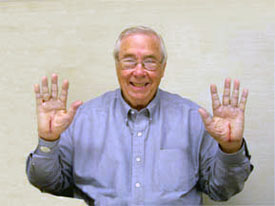 One week later
After two weeks, I have improved sensation in my finger tips, I can pick-up a small pill and slowly I
am able to type with a reasonable speed level.
~ Robert Lutt, Berkeley
---
Carpal Tunnel Release and Limited Dupuytren's Release in a 96 Year Old Retired French Chef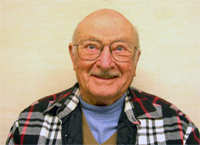 In my 96th year now, I never thought I'd recover so fast and easy and without pain from my carpal tunnel surgery. Nobody should hesitate having the procedure done. I could take care of myself the very next day. Your staff and the hospital staff were very kind and helpful. The operative instructions you gave me were very good, the best I ever received! Many thanks for your expertise and concern.
With much appreciation,
Paul Debes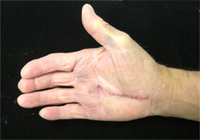 ---
Bilateral Carpal Tunnel Release: No Big Deal
Here are my thoughts about my bilateral simultaneous carpal tunnel release experience:
My primary care physician recommended against bilateral simultaneous carpal tunnel release. I was pretty skeptical of having both done as well. In my opinion, there are 2 rooms to stay away from if you can: one is the courtroom; the other is the operating room!
My left (non-dominant) hand carpal tunnel pain was somewhat worse than the right, so one thought was to do the release on the left and put off doing the right as long as possible. If it worked on the left hand and the right hand continued to bother me, I could do it later. If the left hand didn't work out satisfactorily, or if the second operation was not a fair tradeoff against the carpal tunnel symptoms, then I would have minimized my exposure to room #2. Additionally, there is a benefit to having my dominant hand unencumbered at least for a while and I would have a "good" left hand, if and when the right hand is done.
My wife also urged me to do only one at a time, the left hand first, the right hand later. Her reasons included the operating room avoidance issue, but she was also concerned, no doubt, about having to provide for some of my personal hygiene. Also, she's not keen on driving at night. There might be other unknown additional tasks she would have to take care of, and she didn't want me to be disabled for an extended period of time.
The one-at-a-time arguments all had credibility. For me, however, the issue boiled down to minimizing the total amount of "downtime". Also, you suggested that there was a high probability that a right hand release would solve symptoms in that hand even though they were relatively less severe.
So I went with what you suggested and had them both done at the same time.
In retrospect, there was little complete downtime with the bilateral simultaneous carpal tunnel release and I was less incapacitated (and with less pain) than either my wife or I expected. There was some amount of "lesser capacity" time and some inconvenience (e.g., acquaintance offering to shake hands or difficulty opening a bottle of champagne), but these issues were dealt with.
I gave up swimming for a little over 2 weeks after the operation. When I resumed swimming, the numbness in both hands disappeared completely. There continues to be tingling and some stiffness after 2 ½ weeks where the numbness used to occur, but you explained that this is the median nerve healing and these symptoms should go away in a relatively short time.
Postoperative pain was not a major issue with your recommended pain management plan. I had a prescription for Vicodin, but never used it. I took only Tylenol plus Celebrex. Most of my pain occurred with trying to pick up something just out of easy arm's reach. There was little pain attending to personal hygiene.
Best regards,
~ DE (edited for clarity)
---
Bilateral Carpal Tunnel Release: So Glad I Did
when dr. nelson suggested i have both hands operated on at the same time assuring me that i'd be glad i had... i found it hard to believe when no one else proposed such a thing. how could i get along with no hands? i really liked the idea of getting it over with and not having to do the whole operating hospital anesthesia thing twice so i just trusted the doctor knew what he was talking about and i went for it and i am so glad i did.
i am an older woman living alone and i just have a few suggestions for anyone else in my situation. BE PREPARED..... Have bottles of water, cans, packages, etc opened for you enough to last for quite some time. Buy large rubber gloves to wash dishes... you cannot squeeze a shampoo bottle, fasten a bra strap, or a lot of other annoying other little things.... but little by little you can and it's all worth it and you won't have to have it done again on the other hand... because realistically, you cannot open a water bottle with one hand anyway.
i was doing most things after about two weeks if it didn't require heavy gripping or squeezing. good luck!
~ WS
WS also had a good suggestion: Baby Wipes are really handy (no pun intended) in the bathroom, so you don't have to push so hard and still get the job done. - Dr. Nelson
---
Carpal Tunnel Release and Trigger finger Release in a 79Year Old Retired Physician
Now that I am completely healed I want you to know how pleased I am with your skill and care. You told me what you would do with no assumption that I knew anything about surgery of carpal tunnel compression or relief of the trigger finger. You were thorough, detailed and your printed instructions were the same. You followed my request for the lightest anesthesia so I could listen to the little chatter that went on during the surgery. I left the hospital shortly afterward. No pain medication was taken because there was no pain. The wounds healed quickly. Bandages were off in 10 days. 6 weeks later there is almost no sign of either operation and I have full mobility.
Thank you so much.

~ Gerson Jacobs, MD
---
Carpal Tunnel Release in an 81 Year Old
This statement is addressed to those who are considering surgery for correction of carpal tunnel syndrome. It is being written one day after surgery and my recommendation is: Do It!
At age 81, I have had a number of personal and close family experiences with surgical and other kinds of same-day hospital procedures. Each time I have asked the doctor what to expect and each time the pain and discomfort was overly minimized. I recall caring for my husband and then my son after they were sent home the day of their procedures. I watched their pain and discomfort as I resentfully thought they should still be in the hospital.
About 10 days ago I met Dr. Nelson, who suggested I needed surgery for my carpal tunnel. He said I would not have much pain. I was very skeptical. As an encouragement, when Dr. Nelson showed me the marvelous photos of his rock climbing in Yosemite after his carpal tunnel surgery, on both hands, my unspoken response was"Hah! I wonder if that tiny distant figure holding onto that rocky cliff is really you." I took his office and website assurances of very little pain and discomfort with a huge grain of salt. The day before surgery I nervously stocked up on six videos and offers from the manager of Montecito Silver Screen that she would deliver more movies if I needed them. At home, I thoughtfully opened all the cases in advance of need. Not necessary.
In the O.R., I remember a bit of clatter while I talked about where my children live and then, rather suddenly, Dr. Nelson was telling me my operation was over and all went well. I did not even realize that the surgery had started! Back in my room, I was delighted to realize that my fingers were left unbandaged and I could move them! The surgery was begun at 10:15 and my granddaughter took me home at 11:30.
In the afternoon I had a long nap and woke up ready to go. First a snack and then an email to my worried son in Berlin. The palm side of four of the fingers on my right hand were still numb and I found that I made fewer mistakes by typing with my left hand. That done, I allowed myself one of the movies, a Korean film, "The Grandmother". By now the numbness was almost gone and I could type another email with both hands. This time, to my daughter-in-law re having mailed their health care cards to Germany.
Today, I confess to having feigned a bit more disability than I am experiencing because I didn't want my daughter to think that her helpfulness wasn't quite so needed. Besides, I did appreciate having her use the poultry shears on the roasted chicken she brought. I was too "chicken" to attempt it quite yet.
As I write this, I notice a slight tingling on the index finger of my right hand, and that's all. The hand under the dressing feels a little stiff when I try something more vigorous like lifting a pot of soup. Now I wonder whether I can fit a latex glove over my right hand so I can try a bit of gardening, nothing strenuous, but the garden is more important to me than I care to admit. Only a few days ago I wondered how much longer I could attempt my usual activities of digging, pruning, moving stepping stones, carving new paths etc
Symptoms of carpal tunnel syndrome began about five years age, maybe more. For a few years braces worn at night, then during the day. Helped, but the symptoms returned, especially when I met with my writing group. Putting the notebook in my lap didn't help so the next step was cortisone shots. The first was terrific. No problems for months. The second shot was not so great and didn't last as long. The third time hardly helped at all. Then I went to see Dr Nelson. He, too, gave me a cortisone shot just to tide me over until surgery. He predicted that it wasn't going to last long but at least I'd be able to get some night's sleep. Correct.
My question now is: why did I wait so long? Scared, I guess, which brings me again to the reason for writing this: As one non-physician to another, I've found that I have gotten much information and good advice from friends and it is in that spirit I have made this statement. I wish you well.
~ LB

LB, you said it very clearly. I hope other patients understand that even older patients can do very well with proper perioperative pain management. I am impressed that you wrote this one day after surgery. To the reader: LB did well after the first day and was quickly back to her activities in the garden. - Dr. Nelson
---
Single Side Release for Carpal Tunnel Syndrome in an 81 Year Old
Dear Dr. Nelson:
It is truly amazing that my hand surgery took place on July 25th at Marin General and not once did I experience any pain - even right after surgery - and during the post operative healing time that my hand needed. Not once did I need to take pain medication - something that usually a patient needs coming out of surgery. I will be 81 this coming Dec., and now I am pain free and no longer do I have the terrible numbness in my hand and arm. I only wish I had come to you sooner, but I chose to wait and tried to ignore the warning signals. I want to thank you so very much for the care and understanding you showed me and also for the incredible job you did in the operating room. You gave me the use of my hand back without restrictions and now I can do my gardening, yardwork and most important I can fish once again.
Thank you,
~ J Z
---
Bilateral (both hands) Simultaneous (at the same surgery) Carpal Tunnel Release
I elected to have both hands "fixed" (at once) vs.one at a time and recommend the same decision be taken by anyone who has to elect the same course of action. My symptoms were as follows: for many years the tingle in both hands increased to a point where I could not hold a fishing pole longer than 15 minutes with out constantly shaking them to stop the tingle, I could not hold a newspaper longer than 10 minutes without pain, I had to wear wrist supports to sleep or wake throughout the night in severe pain with minimal pain relief available, I needed the same supports to drive, write, use a computer and use a screwdriver!!! On December 20, 2002, I underwent the standard carpal tunnel surgical procedure on both hands. The surgery started at 4 P.M. I was back in my home by 6:30 p.m. with no pain. I slept through the night without the wrist braces for the first time in over a year. 3 days later the bandages were removed, water proof bandaides replaced the bandages and 5 days later I removed the bandaides. December 28, eight days after the surgery, I could carefully putt a golf ball...two days later I could carefully chip golf balls and I expect to be able to play a regular round of golf by the end of January. It is important to know that the day following surgery you will have full use of your fingers and full feeling in most of your hands. What you cannot do is lift anything with your hands heavier than a spoon, tablet, newspaper or light book. As you healyour lifting ability improves.You cannot turn a door knob...open jars, turn anything without slight pain for at least a few weeks but...there is no carpal pain or tingling immediately after surgery...you can even use a mouse and your computer right away. Shaking hands is a no-no for at least 3 weeks. It has now been four weeks since the surgery. I must still be careful and think before I do things because the incision area is very sensitive...lifting is still done very carefully and I can feel the healing progressing in my hands. When I wiggle my fingers and/or bend my wrists I can feel an internal pulling sensation...weird... I am however absolutely free of carpel tunnel pain...yah..yah....
~ S V....a happy patient!!
---
I want to say that when I came to Dr. Nelson abut my carpal tunnel, I had many ambivalent feeling about the surgery. I am 70 years old, and have numerous other physical problems. I was advised by Dr. Nelson to have both hands done at the same time. I was not completely sure of this but decided to take his advice. I am very happy that I did. I had the surgery at Marin General Hospital in January of 2000, on a Friday. On Monday, I removed the bandages and placed waterproof bandaids. One week later I got rid of the bandaids. I am now a month after surgery. I can hardly see or feel any sign of the surgery, and I do not have any more numbness.
~ Jim Perry

---
I am very pleased with my bilateral simultaneous carpal tunnel surgery. So many people who had this surgery by other doctors told me what a hard time I would have if I did both hands at once. Even my neurosurgeon told me it was too hard. All of these people have been so surprised how well I have recovered. I only need help once in the shower with washing my hair. I never needed to take the pain medication prescribed. I used only aspirin.
I had prepared myself by purchasing plastic gloves, a hand sanitizer to take the place of washing my hands with water, waterproof bandaids, and some Playtex gloves for washing dishes. My family tried to baby me, but soon found out that I was capable of doing very well by myself. I managed quite well.
I am 63 and know that older people heal slower. It has been three weeks and my hands are great. The only problem I had was the dry peeling skin around the incision. I rubbed it with vitamin E oil and it worked well.
Thanks for restoring my hands. I am looking forward to better times with my hands. (minor editing by Dr. Nelson)
~ C. Lori Lyman

Since this time, she referred both of her daughters and her doctor for the same thing, bilateral, simultaneous carpal tunnel release, so she must really think it was a good idea! - Dr. Nelson